A trip to Mathura and Vrindavan
Mathura and Vrindavan, both religious places are devoted to Lord Krishna. Hence, the celebration of the Holi festival is incredible and fascinating here. One full day is enough to explore Vrindavan and an additional day for Mathura. Lord Krishna is said to have spent his childhood in Vrindavan and has several interesting stories behind the temples of this place.
Only at a distance of 130 km from Noida City Centre, this is one of the shortest and quick trips from Delhi. Because of the well-maintained highway, Vrindavan and Mathura is just 2 hours journey from Delhi NCR. Read below for Mathura Vrindavan tour places:
Banke Bihari Temple
Vrindavan Banke Bihari mandir is One of the holiest places in the list of Mathura Vrindavan tour places. It is the main temple of Vrindavan established by Swami Haridas. The Idol of Lord Krishna placed in this temple is said to have appeared at NidhiVan.
As most of the temples in Vrindavan closes at 8 PM. So is important from the perspective of both safety and rules both. Banke Bihari Temple doors in Vrindavan get closed after 8 pm in the evening and are also kept closed during the daytime, Doors are opened at 4 PM in the evening. During Morning Hours, this holy temple is opened till 11 AM. Although these timings vary a bit, so plan your trip either in the morning hours or in the evening hours. Evenings are mostly crowded because of Prem Mandir, Which has very good light and sound show every day.
Holi Celebration at Banke Bihari Temple:
NidhiVan Temple,Vrindavan
It is believed that Lord Krishna conducts his "Raas Leela" in this temple every day at Nidhi Van. After 8 pm, you won't find a single soul there because of this reason.
Highly Fascinating place, to talk and hear of 100s of stories of Krishna. This location, "Nidhivan temple Vrindavan" has many myths. You must ho to check them out.
For us it was not that good experience, Not because of this place, Trust me this place has some positive energy for sure. But our experience got bitter because of few locals claiming them to be an official guide. Read more here:
Prem Mandir,Vrindavan
Apparently the most beautiful temple in Vrindavan. This temple "Prem Mandir" is built in an enormous space with white marble. It looks beautiful after sunset because of the lighting arrangement. Don't miss the fountain show which happens around 8 PM.
Prem Mandir Vrindavan Is located near the authorized parking of the city, so planning it at the end of the trip is always a good idea.
It is maintained by Jagadguru Kripalu Parishat, an international non-profit, educational, spiritual, a charitable trust. The complex is on a 55-acre site on the outskirts of Vrindavan. It is dedicated to Radha Krishna and Sita Ram.
Radha Krishna is on the first level and Sita Ram is on the second level. 
Interesting Fact about Prem Mandir, Vrindavan:
Prem Mandir is constructed entirely of Italian marble. The total dimensions of the temple including its flag are 125 ft. high, 190 ft. long, and the 128 ft. wide raised platform serves as the seat of the two-storeyed white monument.
The thickness of the walls of the garbha-griha is 8 ft to bear the weight of huge Shikhar, Swarna Kalash, and the Flag. 84 panels have also been set up on the exterior of the temple and display the loving pastimes of Shri Radha Krishna. Other than this, numerous portraits of Radha Krishna Leela, or the miracles of Lord Krishna, can also be found inside the temple.
Vaishno Devi temple,Vrindavan
The Idol of Vaishno deity is so massive in this temple that you cannot miss it. You need to walk at least 1 kilometer from the entrance to reach the insides of the temple.
All the temples remain closed between 1 pm to 4 pm. So plan accordingly. Also, there are few things to be taken care of while visiting Vrindavan.
The Maa Vaishno Devi Dham, located in the holy city of Vrindavan, was founded by Sh. J C Chaudhry
Maa Vaishno Devi is believed to grant four boons to her devotees namely Dharma (Righteousness), Artha (Material Pursuits), Kaama (Contentment), and Moksha (Enlightenment). 
Famous places to Visit in Mathura
1. Shri Krishna Janambhoomi, Mathura
It is believed that Lord Krishna was born to Devaki and Vasudev at this place thus making it a major tourist attraction.
2. Gita Mandir
Also known as the Birla Mandir as it was built by Birla. The entire content of Gita is inscribed on its walls.
3. Vishram Ghat, Mathura
Out of several ghats in Mathura, this is most important. Aarti that happens every evening creates a spectacular ambiance and is a treat to experience. Lord Krishna is said to have rested here after killing Kansa.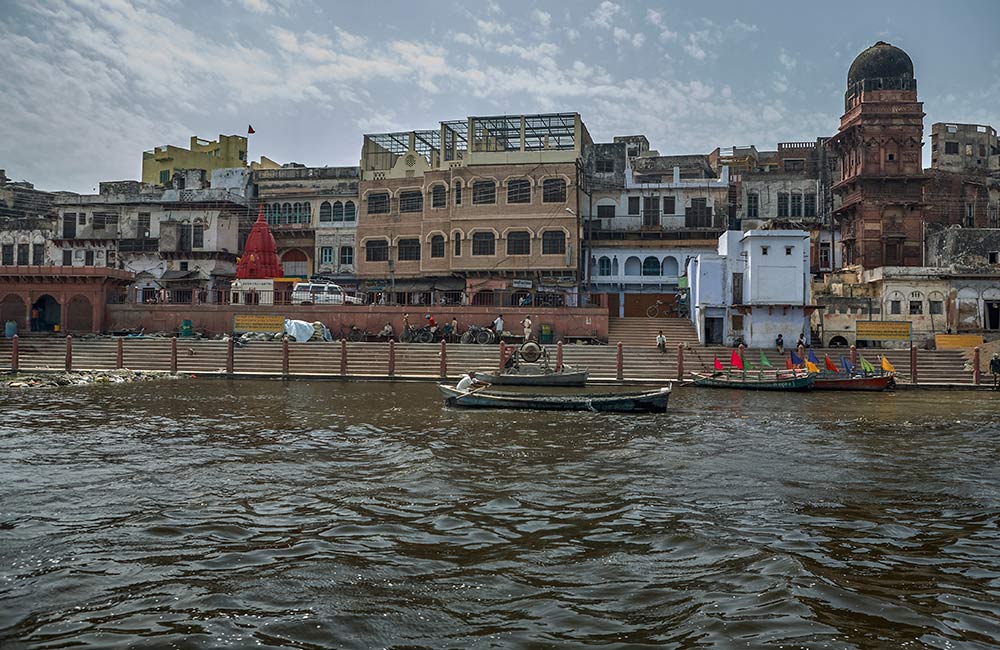 Also read: What not to do in Vrindavan